Paint Your Pet Watercolor Workshop with Chris Blevins
March 3, 2019 @ 9:00 am

-

4:00 pm
This event has been rescheduled to Sunday, March 3 (previously February 9).

Learn how to paint your pet using watercolors (and a touch of mixed media thrown in for fun, or is that fur?) during this one-day watercolor workshop.
We'll work from a photo, so that'll be part of what you and I do before class…  I'll help make sure you have a photo or take a photo of your pet that is good to paint from!
Please be aware this workshop is not for the absolute beginner.  If you've painted with watercolors at least a couple times, you should be able to handle it though.  -)
And yes, this workshop is a tad more expensive than normal.  That's because of the pre-work involved.  Making sure we have a good photo for you to paint from, and that it's formatted properly for you to paint form.
Until then, paint on, and I hope to see you for this super fun full-day event with the world's best art medium…WATERCOLORS!  Hee.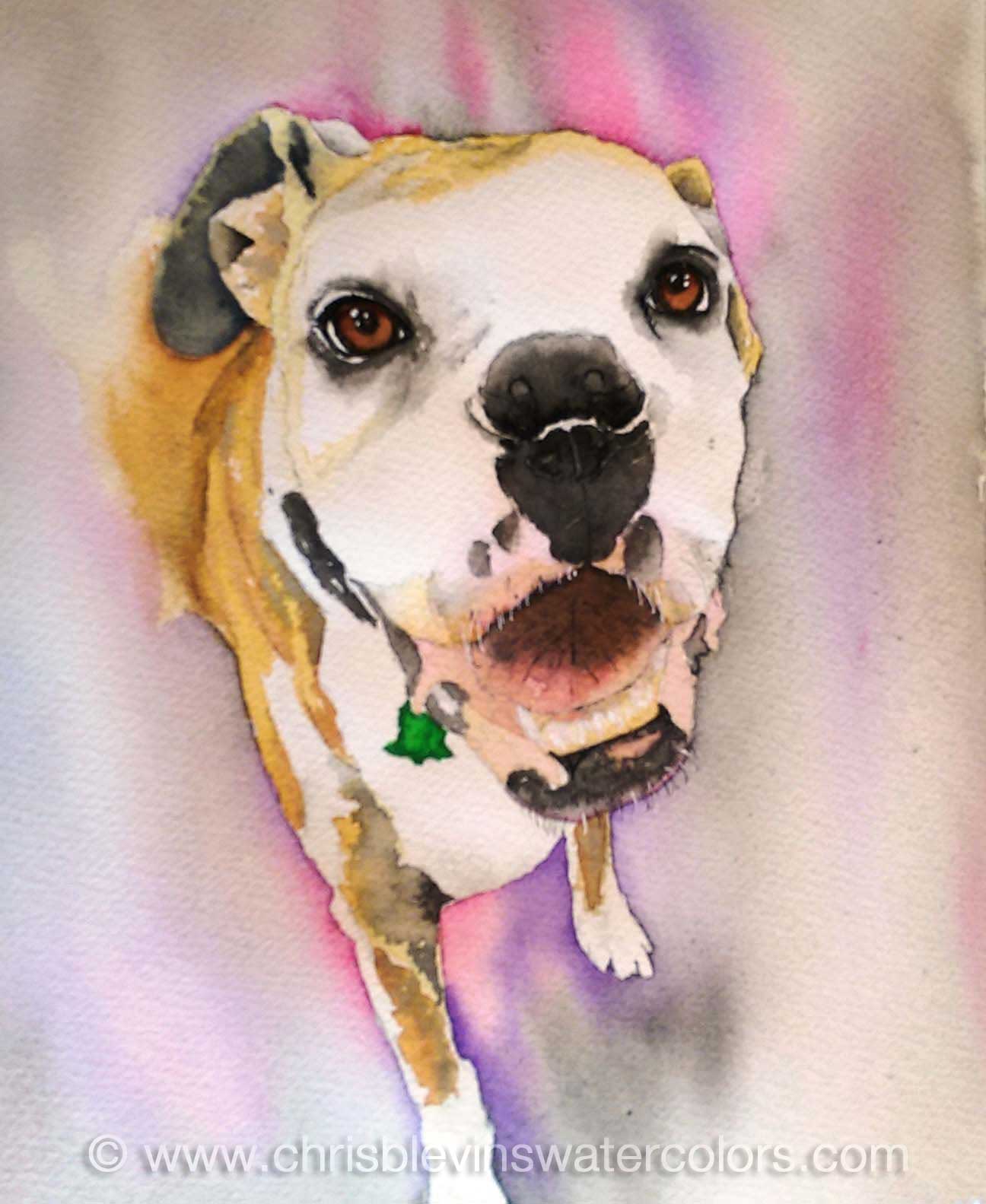 SUPPLY LIST
I'll bring pencils for you to use, but recommend you get a 2H pencil to add to your own personal supply kit.  Art on the Columbia has these in stock.
Kneaded eraser.  Art on the Columbia has these (and she gives them away!)
White gel pen.  Art on the Columbia has these in stock
Masking fluid.  Art on the Columbia has this in stock
Hard copy prints outs of additional photos of your pet to use as reference
Two water containers
Mister
Watercolor board such as gator board or plexi (Art on the Columbia has Plexiglas boards)
Arches or Strathmore Gemini140 lb, if painting an 8×10.  Suggest a heavier weight paper if you're painting an 11×14, such as 200 lb or 300 lb (Art on the Columbia has the heavier paper).  If you can tear it to the proper size before class, that would be great.  If not, plan on arriving early to use the T-square I'll have at class, or use one of Art on the Columbia's heavy plexi boards, to tear the paper to size
Some 1/16 sheets (approx. 5×7) pieces of paper to practice techniques on and test colors
Brushes.  Bring what you have.  Depending on the coloring of your pet and the type of fur, you may really like using a fan brush for your pet portrait.  Art on the Columbia has some in stock
Palette.  Bring what you have.  FYI, Art on the Columbia has a couple of types of palettes in stock
Paper towels
Blow dryer
Watercolor pencils.  Optional.  Depending on your pet's coat, watercolor pencils can be a very useful tool.  Art on the Columbia as WC pencil sets in stock.
Paints.  Bring what you have.  It's likely you may need white, depending on the coloring of your pet.  Art on the Columbia has Dr Ph Martin's bleed proof

 

white

 

in stock.  If you plan on using realistic colors to depict your pet, you may want to test the colors you have in your personal stock.  See the example below of how your might test your paints and narrow down your color choices to see what paints might work well for your pet's coloring.  If you don't have the colors that are making you happy, remember Art on the Columbia has all Holbein and Daniel Smith watercolor colors in stock.  She is open Fridays 11 am – 7 pm, and in evenings by appt.  Just call 509-539-6193.  FYI, some colors I often use in pet portraits:  Holbein Jaune Brilliant #1, Burnt Sienna, Burnt Umber, and Raw Sienna.  In general, to help narrow down your many color choices available from Holbein and Daniel Smith, consider transparent non-staining colors.  You may also wait to buy some supplies before class start on Saturday, but please consider buying your supplies prior to Saturday.  We won't have enough time for all 12 of you to do all your shopping Saturday morning before class starts.